Custom Full Height Shower Bases
Custom Full Height Shower Bases are available individually and also as a kit with our Onyx wall panels. Other shower wall systems such as ceramic tile can also be used with Onyx shower bases.
The Custom Full Height Curb height is 4" tall. This curb height works well with both shower doors and curtains. All curbs have a slope back into the shower area and the shower area has a 1/4" per foot slope towards the drain.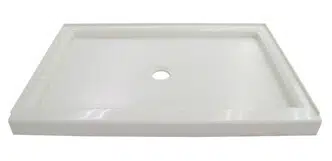 Onyx Shower Kits can be ordered in 78", 84", 90", 96", 102", and 108" tall heights (and any other height as needed). These kits include the shower base, all wall panels, adhesive silicone, and also color match seamfill silicone.
All our custom shower bases are cast in pieces to your specifications and then chemically bonded into a single unit for easy, worry-free installation.
Our custom bases are poured in separate pieces and then bonded together, so the corners will not be rounded. The custom shower pan will not have any water channel webbing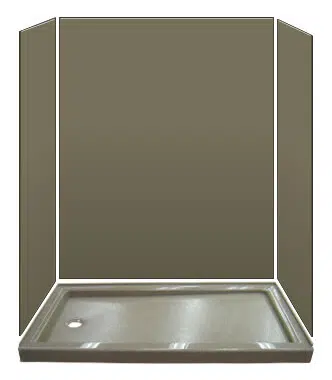 Shower Kit
base, walls, and all silicone