Custom Ramped Shower Bases are available individually and also as a kit with our Onyx wall panels.
Other shower wall systems such as ceramic tile can also be used with Onyx shower bases.
We recommend using a shower curtain and our roll-over vinyl with our integral ramp shower bases. If a door is needed, a good option to consider is a Low Profile shower base with an add-on ramp. Onyx Shower Kits can be ordered in 78", 84", 90", 96", 102″, and 108″ tall heights (and any other height as needed). These kits include the shower base, all wall panels, adhesive silicone, and also color match seamfill silicone.
All our custom shower bases are cast in pieces to your specifications and then chemically bonded into a single unit for easy, worry-free installation.
Below are the ramp access shower options that we make. Click on the images to see more details.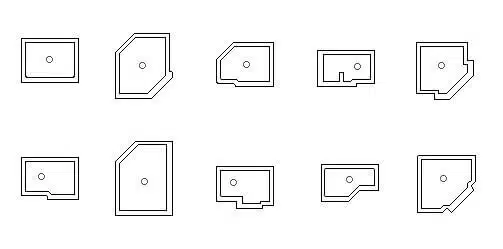 Smaller Ramps ideal for residential remodeling
Compatible with shower curtain
Minimal "drop-down" on inside of ramp
Longer Ramp provides easier "roll-in" access
Compatible with ADA requirements of 12:1 or 8:1 ramp pitch. Please review ADA Standards for Accessible Design [sections 4.1.6(3)(a) and 4.8.1 – 4.8.3] regarding ramps. Standards state that new construction requires a 12:1 ramp pitch, and remodeling is allowed a pitch up to 8:1 when space does not allow for the regular 12:1. Please verify these specifications with your ADA expert.